On Friday I printed an edition of 18 of the little hypnotic cat. I decided to call him "Le Chat Noir" (The Black Cat). I think his shadow has a mind of its own. I'd like to write a short story/poem to put on the back of each print, but that will have to wait another week or two, after Finals Insanity has ended.
As you can see, I ended up rounding the corners, and I'm happy with how it turned out! I think some of the subtlety in the spitbite wore out (in the sky/horizon), or the blankets/pressure on the press weren't quite right. Regardless, I'm happy with it and it was nice to see that all 18 prints ended up being edition-worthy.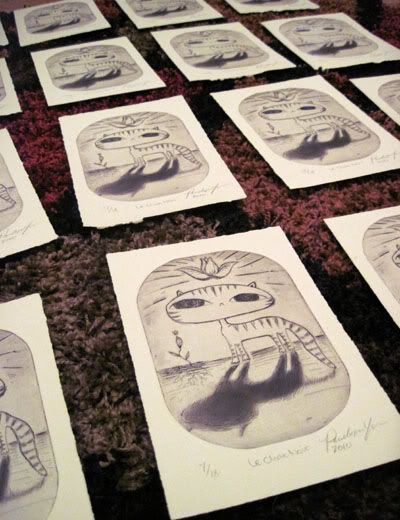 Proper scan coming soon, along with lots of exciting color proofs of my other kitty-print (still in need of a title--suggestions welcome).
Edit 5/4
Here's a scan of "Le Chat Noir"! Lucky 13 :)