Ok, here are some progress shots of my appleman screen prints. A few weeks ago Louis and I went to New Haven. It was very cold so we didn't do much walking around...mostly jumped between lunch and coffee places to keep warm. While waiting for our lunch I started drawing Louis but it didn't look like him so I turned it into a totally ridiculous looking man. Louis said he looked like a lemon so I made his head lemon shaped. I ended up drawing a bunch of other fruit-people to go with him and appleman resulted from that.
It worked out because appleman was nice and simple, perfect for a test print. I'm considering this my first real attempt at screenprinting, although I've done it once before with absolutely no success. This time was better!
Materials:
-Speedball screen
-Screenfiller
-Magenta + Yellow acrylic Speedball inks
-Watercolor paper
-Squeegee
-Tape for the edges of the screen, front and back


Screen filler (the red stuff), painted on to block out areas not to be printed.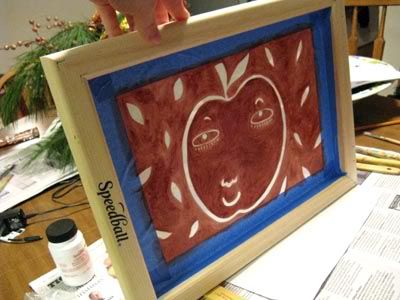 Done with the screen filler. A second layer was applied the next day to cover up any remaining pinholes.




Ink!!




APPLEMAN!!




I decided to add some watercolor afterwards to make him even more disturbing.